Glenwood Household Organics Recycling
Glenwood residents are now able to recycle their organics (food scraps and paper napkins/plates) through a new program.
Not signed up yet?  Get signed up today.
Learn more below and how to sign up.
What is 'Organix' green bag co-collection organics recycling?
Learn more about how the organics and trash co-collection program works.
Pope/Douglas is working with the City of Glenwood and their waste hauler to pilot test household organics recycling using the 'Organix' green bag co-collection program.  Check out the video below to learn more simple the program really is!
Free 'Organix' organics recycling program supplies
Signed up City of Glenwood residents will receive the following to ensure successful organics recycling at home.
(60) – 13 gallon 'extreme duty' compostable co-collection bags. (Enough for 1/week plus some extras for special occasions)
Fridge magnet. (Detailing what goes into the specially designed compostable bags)
Program brochure and troubleshooting information
Note: Only 'extreme duty' co-collection specially designed compostable bags are to be used for recycling organics through the co-collection method.  They are super heavy duty to hold up from your curbside garbage cart to the sorting line at the Pope/Douglas Solid Waste Management Materials Recycling Facility (MRF).
Compostable Products (plates/cups/utensils)
Certified compostable products (plates, bowls, cups, straws, cups, and utensils) must be used as part of your organics recycling.
Paper items that look shiny or have a smooth surface are typically coated with plastic layer, which is not accepted in your organics recycling, unless they are identified as being certified compostable.  Using only compostable products ensures that the finished compost does not contain items that did not break down in the composting process.
If certified compostable products are not used, simply toss them in the garbage.
BPI (Biodegradable Products Institute) certified products list
Look for these logos below on packaging.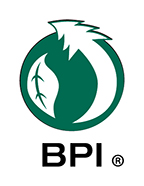 Recycling Resources: Signs/Stickers
Place signage and stickers on recycling and waste receptacles to show what goes where.  Contact Pope/Douglas for stickers or signs below or simple print them out and use them wherever recycling is set up.
Organics for Composting Signs/Stickers
Paper Towels for Composting Signs/Stickers
Single Sort Recycling Signs/Stickers
Cardboard Only Recycling Signs/Stickers
Trash Signs/Stickers